Waddenkust
Edible Coast
7/9
Edible Coast
It is only possible to tackle climate change with a flexible attitude. The best approach is to respond to the dynamics and diversity of the landscape. This forms the basis for a new vision: The Edible Wadden Coast.

The variety between fresh and salty, wet and dry, high and low and clayey and sandy of-fers scope for flora, fauna and a varied food landscape. Nature and agriculture no longer contrast with each other. They are being intertwined in a wide, multi-faceted coastal zone. The way in which it is designed anticipates the forthcoming climate changes. It supplies the three northern provinces with sufficient food and a diverse menu all year round.
From production for the world market to circular agriculture
Designing a dynamic food landscape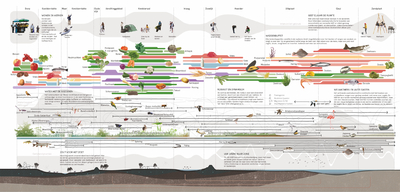 Eat well plate for the Groningen Wadden Coast
What will we be eating in 2100?
Opportunity for a wide range of products: from potatoes to cockles, from salicornia to mus-tard and from chard to smelt. In 2100, our menu will largely consist of local – sometimes forgotten – crops and catches, as well as new forms of proteins such as algae and insects. Because the climate is getting warmer, we will be able to grow crops which can currently only be found further south.
Image of the productive salt marsh
Six interventions as a starting point for the Edible Coast
Het toekomstig landschap van de Waddenkust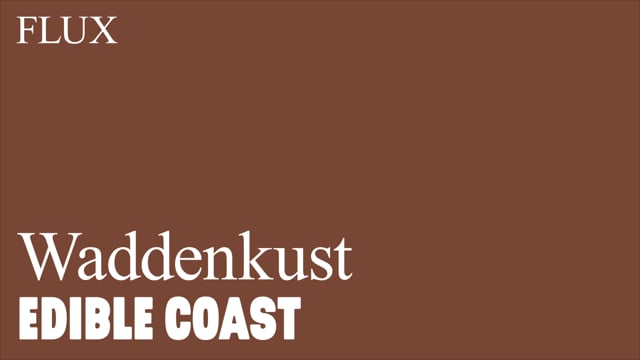 ---
About the designers
FLUX
Flux landscape architecture is an office for landscape architecture based in Utrecht, founded by Gerwin de Vries. The design team of 15 people is comprised of landscape architects, urban planners and designers. Flux's approach to design can be characterized as research driven and conceptual. With work ranging from design research to detailed spatial concepts for landscapes or public spaces, Flux tackles projects varying in size and scope. Projects are both, urban and rural - often related to themes that span climate change, new forms of ecology, energy transition, mobility and circular economy.