Hunze Valley
Aquabattery
1/9
Development of the Hunze Valley from the penultimate Ice Age
Climate challenges for Hunzedal
Aquabattery
Aquabattery turns the disbalance between excess rainfall and a shortage of rain into a local and natural source of fresh water. The stream running from the Hunze rivervalley is becoming a sponge landscape which makes optimal use of the supply of fresh seepage water from the Drents Plateau, which is located on higher ground. The landscape charges itself up like a battery during the wet winter months. This ensures that there is enough drinking water during the dry summer months and promotes the development of natural wetlands. This also eliminates the dependency of the water supply from the IJsselmeer.

A sponge landscape offers a perspective for is perfect for a wide range of projects. For example, it prevents subsidence of the peat soils and CO2 is no longer emitted but stored away in new forests and – over time- new peat marshes. With a guaranteed fresh water supply, the agricultural transition in the adjacent Veenkoloniën can get underway. The biodiversity and the economic and recreational value of the area is increasing with the emergency of a vast wetland. The area forms a place of refuge for migrating wetland birds. Together with Geopark de Hondsrug and the Drentsche Aa, the Hunze Valley forms a vast, new, formidable national landscape.
Hydrological principle Aquabattery
Cross-sectional hydrological system Aquabattery Hondsrug- Hunzevallei

Image of the bog development along the flank of the Hondsrug
image by Bureau B+B / MARTA pictures
The operation of the Aquabattery in three cross-sections: city system, downstream and ppstream
Water system, biotopes and recreational networks in Hunzedal
Ecolodges near railway station Kropswolde
image by Bureau B+B / MARTA pictures
Three subdivisions: Glimmen, Kropswolde en Coendersborg
The future landscape of the Hunzedal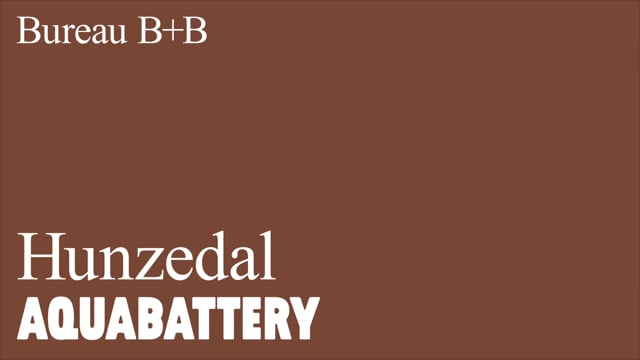 ---
About the designers
Bureau B+B
Since its founding in 1977 Bureau B+B built up a rich experience. At the same time, we keep attracting young talent. Because the bureau renews itself, it keeps finding fresh solutions to current themes. Each design can be recognized by its poetic clarity. The framework is powerful, the details are subtle and refined. Every design starts with research of the existing elements, traditions and culture of the location. A clear, functional foundation is essential to create opportunities for gradual transformation.
The working field of B+B is wide: from urban public space, parks, new residential areas to water works. The agency consists of 12 landscape architects and urban planners, led by Gert-Jan Wisse and Jeanette Visser.